A suitable chair for your various requirements can make your life miraculously easier and more comfortable. Here are the most useful designs of chairs to complete your dream living space and enhance your lifestyle.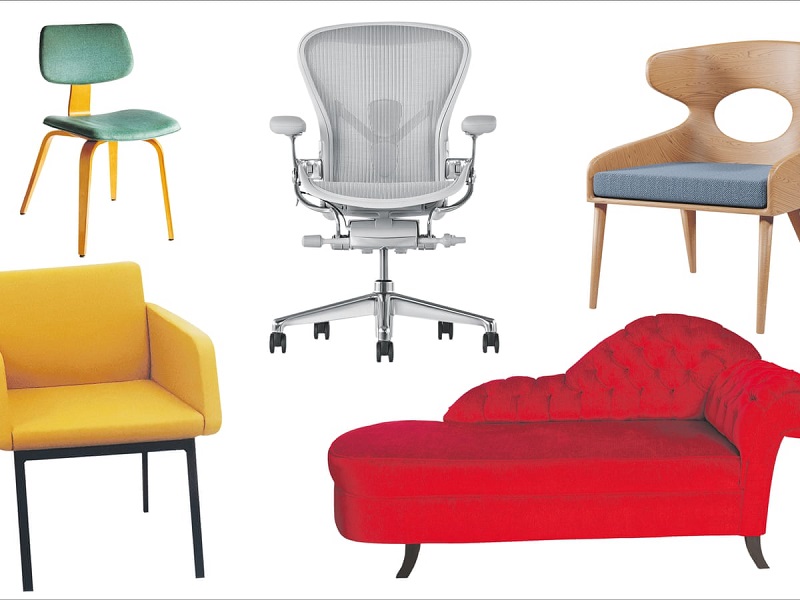 A Couch: It is often a combination of 2-3 chairs or just one unit fitted with cushions. There is an armrest on both ends. It can accommodate two or more people. It is the most crucial piece of furniture in any living room. It can serve you in multiple ways, suitable for guests, to relax or to watch a sport with your mates.
An Armchair: Unlike a couch, an armchair is a single, cushioned, and upholstered chair. It is the best chair for you to sit comfortably and enjoy your time while resting both your arms. You can place an armchair wherever you feel like spending your quality time.
A Wing Chair: It is a very comfortable single chair having a high wingback. The armrests are also cushioned as uniformly as the seat and the back. The style of this chair will add savor to its surroundings. If you prefer a vintage touch, this is the most suitable chair for you to spend your leisure time.
A Desk Chair: A type of chair designed to be used at a working desk. It might be of adjustable height and have wheels for mobility. For workaholics, a suitable desk chair can be no less than a blessing. There is a range of desk chairs, including the operator chair, executive chair, and many more.
A Dining Chair: These chairs often match with a dining table. They are mostly made of wood with a cushioned seat and a straight back. A good dining chair is important to enhance your family time. The right dining set can make your home well-organized.
A Wooden Chair: It is a conventionally built chair mostly without an armrest. The design varies widely. It is the most basic and useful type of chair. You can just place these chairs whenever and wherever needed.
A Student Chair: This is an efficiently designed chair with a straight back and a solid seat without any armrest or comfortable feature to keep the body alert. There are numerous styles, including wheels, a writing pad, and many more. For scholars, this chair is a necessity.
A Garden Chair: These chairs are designed for the outdoors, such as a garden, park, and balcony. They are comparatively expensive owing to the more advanced materials used for manufacturing them. Installing this super attractive piece of furniture in your garden will be one of your best decisions.
A Windsor Chair: It is a very beautiful vintage chair. There are wooden (metal) spindles at the back attached to a solid seat. For a low-key and antique interior, a set of these chairs will do wonders. You can create your own mini retro cafe using these chairs.
A Throne: It is an oversized elegant chair matching the aesthetics of the throne of rulers. The seat and back are mounted with super comfy cushions, and the armrest is just perfect for relaxing. With an overwhelming appearance, this chair is also the most luxurious seat one can have.