Introduction – What are Accent Chairs?
In modern times, with an increase in the demand for furniture that is comfortable and makes the space more aesthetic, accent chairs provide a great advantage. These chairs are not just immensely comfortable and useful, but also help style the room and create a space according to the individual's taste.
Accent chairs can have different purposes for every person. Some people use them to make the place more color-coordinated; some like to make the room brighter and cheerful, whereas some use them solely for more seating space. Whatever the purpose may be, they all reflect the purchaser's personality. There are many types of accent chairs available in the market. One of them is a 'modern accent chair':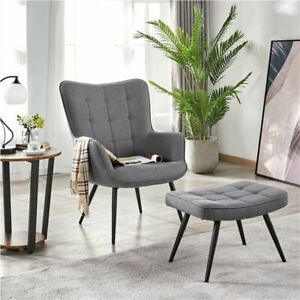 Modern Accent Chairs
These chairs function as an astounding accessory that provides comfort and a relaxing place to rest after a long day. Usually, these chairs stand out for their simplicity, innovation, and design. One of their most important features is subtleness. Modern accent chairs break the concept of four legs and are very diverse in their framework. Various materials like wood, plastic, metal, plywood, fiberglass, and rattan are usually used for production. Now, more and more houses are being built, keeping in mind the owner's imagination and style besides the functionality. Modern accent chairs are preferred over other chairs because of the insight it provides to the buyer's mind in an artistic yet subtle way.
How to choose the correct modern accent chair?
With the obtainability of so many different types of accent chairs available in the market, one might get confused about the exact kind of chair they want. A few things that should be kept in mind while buying any accent chair or modern accent chair are:
The color scheme– The individual must know if they want the color to be coordinated or something opposite to that of the living space. The shades should be contemplated thoroughly. The color composition must go with the room.
The design– There are various designs/types of chairs available in various patterns. The design should be decided based on the buyer's comfort level and aesthetic purpose. It should also be complementary to the structure of the room.
The living space– One of the most essential aspects of determining the right modern accent chair is to consider the room or its location. One chair might look lovely in an open space setting, but bright in a bedroom. The available area should also be measured.
Purpose– Before purchasing a chair, one should understand if the main purpose would be to add more luxury, make the space more elegant, fill the space, or just provide comfort.
Budget– Lastly, one should keep a rough budget in mind before buying a chair. They could easily go overboard due to the availability of so many options and price ranges.
Types of Modern Accent Chairs
Four types of popular modern accent chairs available online are:
Small modern accent chair: Works well for smaller spaces; It is made of plywood with a faux leather seat under average prices.
Arne Jacobsen-Style swan chair: Most suitable for bedroom settings; It has a metal framework and adjustable seat level.
Modern grey accent chair: This chair has a Scandinavian feel. It has a grey linen seat with two cushions and has four natural wood legs for more balance.
Modern butterfly leather chair: This is a leather chair for those who do not have enough space to have a stationary chair. It can be folded and stored.
Conclusion 
Modern accent chairs can be comfortable and beautiful at the same time, only if the customer can recognize how to find the right fit for their personality. They can help restore the balance of the room, provide more colors to it, add to its design, and offer comfort. Modern accent chairs are becoming more available and affordable day by day with a rise in demand. Soon, every household will have one. These chairs have the power to make or break a room. Remember the importance of getting the right one!