What are accent chairs?
Accent chairs are pieces of infrastructural art that have a greater purpose than just being a mere seating place. It spices up your room and speaks a lot about your personality. A single accent chair can completely change the look of a room. It complements the décor and the color of the room and gives a grandiose look to your room. Accent chairs generally make a dull room more interesting. If you are looking for that one piece of vibrant furniture that will turn your boring room into a rich look, you should choose vibrant and elegant accent chairs. Accent chairs, with their extravagant look, hold the capacity to turn all your attention towards them. Bold geometric patterns are appreciated and give an exclusive look.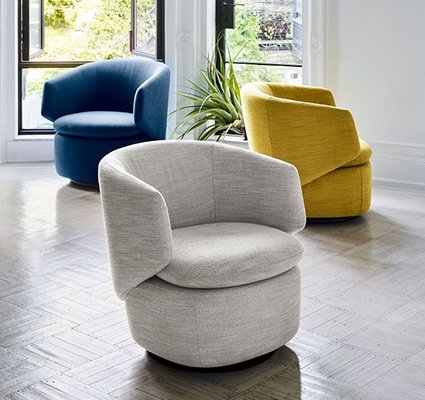 Types of Accent chairs
There are many types of accent chairs, each having unique designs and patterns. Here are five different types of accent chairs that will go well with your living room.
The club chair: These types of chairs are very roomy. These are upholstered armchairs with very deep seats. They are very comfortable and most likely will leave you dozing off on them.
The occasional chair: These types of chairs are mainly known for their unique design and shape. They are armless and extremely light.
The wingback chair: These chairs have a long dramatic wing-shaped back and add a royal look to your room.
The chaise lounge: The origination of chaise lounge chairs dates back to ancient Egypt. They are long and are a footstool and a chair combined to form a long chair.
The roundabout chair: Roundabout chairs were created in the 1700s to fit in small rooms. Wooden roundabout chairs add a perfect traditional look to your room.
How to choose the right accent chair for your room
The right choice of your accent chair should depend on the décor of your room. Accent chairs can go well in any room, although it goes best in living rooms. If you feel that your sofa set is incomplete and your room lacks something, you should look for an accent chair with your room. There are multiple options for you to choose from. The chair's size is the main thing that you need to keep in mind while choosing it. Accent chairs resonate with you and emphasize your artistic side well.
If you wish to have a very emphasizing look, then you must go for more than one accent chair for your living room, but if you want a low-key and interesting look, then one accent chair should suffice. The number of accent chairs in your living room also depends on how big the room is. Accent chairs are generally added for decorative purposes and look distinct from the other furniture that your room has. This piece becomes the prime focus of the room and adds a lot more volume to your room décor.
You need to be careful about the accent chair's location in your room; the location speaks volumes. You can place it in a corner or beneath a window; it will give a cozy vibe and is extremely fulfilling while you sit there with your favorite book. The wingback chair or the club chair will add the perfect amount of exclusiveness to your living room, whereas if you want to add a hint of luxury to your bedroom, the relaxing chaise lounge will fulfill that.
If you are looking for a piece that would give that extravagant look to your room and surely impress your guests, what are you waiting for? Go and choose the perfect accent chair. They come in a variety of styles – contemporary, traditional, vintage, or vibrant. You will surely not be disappointed.